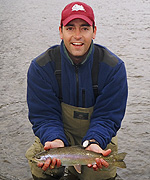 Tim McCue, M.D. - Medical Director
Dr. Tim McCue is curently a radiology resident at Georgia Regents University. Previously he was the Head Team Physician for the University of Montana in Missoula. He attended medical school at the University of Washington in Seattle, Washington and Family Practice Residency at Waukesha Family Practice Residency in Waukesha, Wisconsin. He completed a Primary Care Sports Medicine Fellowship at the University of Colorado Health Sciences in Denver, Colorado.
Dr. McCue's research study, "Upper Extremity Pain Seen with Fly-Casting Technique: A Survey of Fly-Casting Instructors," a first-of-its-kind medical study looking at arm and shoulder pain in fly casters, was published in the fall of 2004 in Wilderness and Environmental Medicine.
Copyright © Fly Casting Institute. All Rights Reserved.