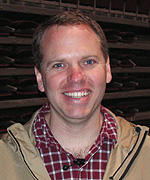 Mike Hahn, Ph.D. - Research Director
Dr. Mike Hahn is on faculty at the University of Washington and the VA Center of Excellence for Limb Loss Prevention and Prosthetic Engineering in Seattle. He received his M.S. from Iowa State University, and his Ph.D. from the University of Oregon. Between master's and doctoral training, he worked at the Mayo Clinic in Rochester, Minnesota in the Orthopedic Biomechanics Laboratory, specializing in hand and wrist joint function after injury and joint replacement.
Dr. Hahn's fly-casting studies are currently focused on the joint mechanics of the shoulder, elbow and wrist. For more about Dr. Hahn's non-casting research, visit his VA Web page.
Copyright © Fly Casting Institute. All Rights Reserved.