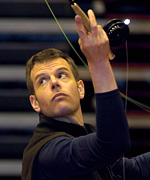 Jason Borger
- Education Director
Jason Borger is a media designer and fly-fishing educator. He published his first fly-fishing article at age 13, and began working on fly-fishing videos when he was 16. Jason's work in the study and teaching of fly casting has lead to his involvement as a consultant and double for commercial and feature-film projects. He is also the author of the book, Nature of Fly Casting.
Jason's research in the FCI is focused primarily on arm/rod interaction, and how the rod/line system responds to input from the caster. This research is also tied to reducing stresses on the caster and increasing casting comfort and efficiency.
Visit his blog at fishfliesandwater.com.
Copyright © Fly Casting Institute. All Rights Reserved.